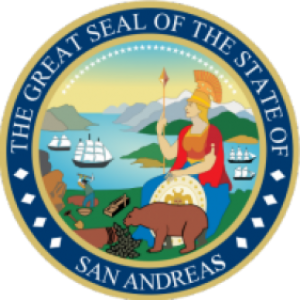 Paleto Bay is located on the lush northern coast of Blaine County, San Andreas. Sitting at the base of the massive Mount Chiliad, Paleto Bay is a coastal town, home to the Cluckin' Bell Factory Farm, used to process chicken for all of San Andreas to enjoy. The town also has a Los Santos County Sheriff's Department, and the dense vegetation that grows around the area is a vast contrast to the dry and arid Sandy Shores. Paleto Bay is a good resting stop for truckers due to its large number of commodities and the fact that Route 1 runs right through the middle of the town. Lester Crest mentions in The Paleto Score that the body of water north of Paleto Bay is actually a river, not the Pacific Ocean.
According to a radio broadcast from Weazel News, the mayor (in 2013) of Paleto Bay is Roy Buckley. He recently commented on worker discrimination in rural businesses. Paleto Bay is the typical small-town settlement found in rural areas across America. Paleto Bay is much more modernized than other towns in Blaine County, such as Sandy Shores. Several chain stores operate in Paleto Bay, like Herr Kutz Barber. In fact, the Cluckin' Bell fast-food chain operates a large chicken processing plant in the southern end of Paleto Bay. It appears that Paleto Bay experiences far less crime than other areas in Blaine County. However, despite the friendly image portrayed, Paleto Bay is filled with corrupt local police who are known to cheat the residents out of their money through the Blaine County Savings Bank. The local police didn't hesitate to rush to the bank when a robbery occurred.
Paleto Bay is a small rural settlement in San Andreas. In the south, there is a Go Loco Railroad railway station situated behind the Cluckin' Bell factory farm. However, it is revealed that Merryweather Security has control of the railway station as well, which was seen when one of their courier trains was derailed. On the western side of the town, the Paleto Forest serves as a place for hunters like Cletus Ewing to hunt various wildlife. The center of Paleto Bay is where all the shops and commerce are found. Recognizable chain stores such as 24/7 help provide the town revenue. The southern end of the town is dominated by the presence of a large railway station and factory, along with the hills leading to Mount Chiliad. The northern end of the town includes a small peninsula along with a few tiny islands. The eastern end of Paleto Bay is more dedicated to hard labor. A scrapyard, garage, and a small farm can be found. There's also a RON gas station.